W E L C O M E
ANASTASIA HOTEL
Dear guest,
We are very pleased to welcome you at Anastasia Hotel.
Our intention is to provide each guest with the level of personal service found. To achieve this, we endeavor to anticipate your needs as much as possible with a wide variety of services and our team which is ready to attend to your most pressing requests.
You will find the many services we provide outlined in this directory. However, should any question or problem arise, please call the reception and we will be happy to assist you.
Your comfort is our most important concern.
ANASTASIA HOTEL TEAM
W H E R E T O F I N D W H A T ?
OUR ADDRESS
Ethnikis Antistaeos 52, 85300
Greece
Kos
85300
AT YOUR S E R V I C E
Reception - Your direct service connection
Our team is delighted to assist you and to answer your questions. If you need directions, room service or assistance, simply dial "0".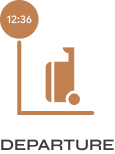 The departure time is at 12:00 noon.
If you would like to extend your stay or depart later, please contact the reception to check availability and additional charges.

If you need medical care, please get in touch with the reception.

Found items are kept in our lost & found according to legal requirements.
Shipping to you is at your own cost.

Please ask "At Your Service" or the front desk for directions to the nearest pharmacy or for the emergency services locations.
Anastasia Hotel pursues a "Green Movement". This means you get a daily room cleaning. For a longer stay your linen will be changed every
3 days. On Sundays there Is a turnover service. For the request of a daily change or to make your stay more comfortable, including extra- towels etc. please get in touch with the reception.

Please contact the reception.

Please contact the reception o for personal wake-up calls.
AIR CONDITIONING / HEATER
Hotel rooms are equipped with air conditioning. Each unit can be individually adjusted according to your comfort.
ALL DAY BAR BY THE POOL
We offer breakfast, snacks, cocktails or a good glass of wine.
Opening Daily from 08.00-23.00
ATM
For information about the closest ATM please contact the reception
CAR RENTAL
At the reception will be delighted to help you with a reservation.
CONCIERGE
Please contact the reception and we will assist you with any questions and requests. This includes, among other things, reservations for restaurants, recommendations for activities and information on local attractions.
CREDIT CARDS
We accept American Express, Diners
Club, Master Card, Visa
ELECTRICITY
All our power outlets in the hotel
have an electric voltage of 230V.
EMERGENCY EXITS
Evacuation instructions and floor
plans are located at your room door.
INTERNET
Wireless internet is complimentary in our public areas and in the rooms. Connect to Anastasia Hotel. To log in insert the password anastasia17
NON-SMOKING HOTEL
Please note that we are a non- smoking hotel. It is strictly prohibited to smoke in rooms.
EXPRESS CHECK OUT
We offer every guest the possibility of an express check out. Please contact the front desk for detailed information.
SAFE DEPOSIT BOXES
Please do not leave any valuables unattended in your room. Please use the safe provided in your room.
Please contact the reception for more information about the fee.. The hotel assumes no liability for lost items.
EXTRA BED/CRIB
Depending on availability, we can accommodate an extra bed or a crib in your room if required. Please contact the reception.
FIRST AID
Please contact the reception for any help.
POOL
Opening hours daily:
10:00 - 19:00
FLOWERS
Planning a surprise? Consult
The reception
LAUNDRY SERVICE / DRY CLEANING
Please contact the reception in order to receive information about the service. The service is provided from Monday through Friday except on public holidays.
EMERGENCY & S E C U R I T Y
SECURITY
You can store your valuables in the safe in your room. The hotel assumes no liability.
IN CASE OF EMERGENCY
The most important part of our safety program is that you know how to respond in case of an
emergency. On arrival at our hotel,
please take a moment to take a look at the emergency exits on your hallway. The escape route is displayed on the back of your
bedroom door. Alarm buttons are
mounted on each floor and in each room. In an emergency press the
alarm button in the immediate
vicinity. Please familiarize yourself after check in with the following
safety precautions:
•Locate the emergency exits
•Please have a look at the diagram on the back of your bedroom
door
•Locate the nearest fire
extinguisher and alarm button
FIRE SAFETY PROCEDURES
Our hotel is equipped with an efficient fire alarm system. We want to be sure that you are
prepared to leave the hotel safe if
one of our warning signals sounds.
For your own safety please make yourself familiar with the following procedure:
LEAVING THE HOTEL
•Please check if your door is
hot or smoke is entering before you leave

•If the corridor is accessible,
please leave the hotel through
the closest available emergency stairs

•Do not use the elevators